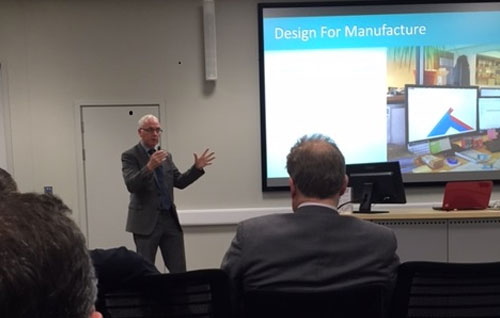 Bill Timpson, Harlow Group MD was a keynote speaker at the, It's All Engineering … Isn't It, event held at The Welding Institute recently.
Organised by INVEST Essex, in partnership with Lloyds Bank, the event was aimed at engineering companies who are redefining themselves away from making specific products or product ranges for particular sectors , but instead looking more closely at what their core expertise. In today's world, companies need to be alert to new opportunities and carefully consider whether their unique area of competence could be translated elsewhere.
Robert Edge, Inward Investment Officer, commented "The event showed that there is still much to celebrate as far as British companies making products are concerned. Bill's passionate presentation clearly demonstrated that traditional British engineering skills and values still have a place in the modern economy and still can offer a great career for young people. We're very grateful to the Harlow Group for sharing their story".
The regional plan for Invest Essex is for the creation of an industry-driven, high-value groups in the East of England, stimulating greater innovation through collaborating and growing value chains.